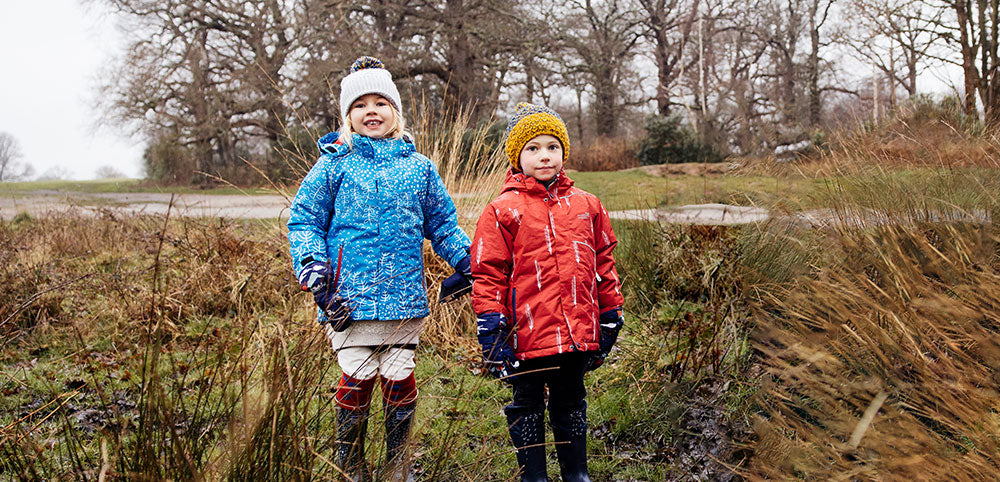 Adventurous Activities Inspired by our Favourite Stories
We love stories and we think it's important that children develop a love for reading too, so with the new lockdown starting, we thought it was a good idea to revisit some of the all-time classics and come up with adventures based on these stories you can take your young explorers on.
We've put together some great ideas for fun things to do outdoors, inspired by the tales of our favourite characters. With lots of fantastic books to choose from, we've narrowed it down to some of our favourite stories where adventure is written on every page.
Here are some fun, adventurous activities inspired by our favourite stories
1) The Very Hungry Caterpillar by Eric Carle
The first sight of this book was in 1969 and it's still a favourite on kids' bookshelves around the world. Teaching little ones about hope and, well, eating good food, The Very Hungry Caterpillar is the perfect starting point for an outdoor activity. Who says that you can't have a picnic during winter? Fill your picnic basket with apples, pears, strawberries, plums, chocolate cake and pie and venture outdoors. Do as the Hungry Caterpillar does and scoff your faces with delicious picnic offerings. Spend time together reading this colourful classic and once all are fed, go on a lovely walk. Talk to your little ones about caterpillars, butterflies and their metamorphosis.
2) Where the Wild Things Are by Maurice Sendak
First published in 1963, Where the Wild Thing Are takes us on a journey to a jungle island where a young boy meets and tames some majestic monsters. This beautiful tale of a child's imagination reminds us that being a big kid can be just as fun. Escape to a make-believe world where anything goes; dress up, dance, run around and be as silly as you want. Stay in your garden or head to a woodland park and enjoy being in nature, even in the wildest of weather conditions. Use the natural arches of a branch to make your own den out of fallen sticks and blankets and have your own mini-party out in the wild.
3) The Gruffalo by Julia Donaldson
One of the most popular children's books of the generation, The Gruffalo has taken on many forms since its first release. It's been transformed into plays, movies, plush toys and fantastic walking trails. Since it was written in 1999, we've learnt an awful lot from that brave little mouse. Wrap up warm and head to your favourite national park to see what you can find lurking among the trees. Or embrace the outdoors with a long walk in nature; you'll be able to find lots of Gruffalo walking trails in forests around the UK. Practice your orienteering skills to find wooden sculptures of the much-loved characters hidden in the shrubbery. 
4) We're Going on a Bear Hunt by Michael Rosen
It's no secret that we love taking long walks on quiet Sundays - something that first inspired by this much-loved book. All the adventures started in 1989 and now there's even a short film adaptation from the creative minds behind The Snowman. The perfect tale to accompany a countryside walk no matter the weather, We're Going on a Bear Hunt will inspire you to navigate through long wavy grass, wade through colds river, squelch in thick, oozy mud and take a trip into a big, dark forest. Take note of the birds and wildlife as you go, enjoy the sing-a-long soundtrack, and bring your dog along for the journey too.
5) A Bear Called Paddington by Michael Bond
The little bear from darkest Peru captured our hearts the moment the Brown family found him at the station. The story of Paddington bear first appeared in 1958 and his tales of finding adventure in the ordinary has sparked our imagination ever since. Of course, you're going to need to equip your little ones for an epic journey. Grab their wellington boots and matching hat, and cosy up in a waterproof coat. You don't have to head as far as Paddington Station to capture the magic of this book, you just need the bear's polite, kind-hearted nature and wild sense of adventure. Enjoy putting the iconic wellington boots to good use, splash in muddy puddles and scamper around in parks; just don't forget the marmalade sandwiches. Whether you like the sound of a family picnic, a scenic country walk or maybe you'd rather discover something new, the options are endless with nature on your doorstep. Just remember to pack your favourite stories and have a family adventure of your own.