Muddy Puddles are honoured to be one of only 20 Certified B Corporation® fashion and footwear companies in the UK.
Also known as the "gold standard" for sustainability, B Corp™ status requires companies to meet rigorous social and environmental standards which cover five key impact areas of governance, workers, community, environment and customers.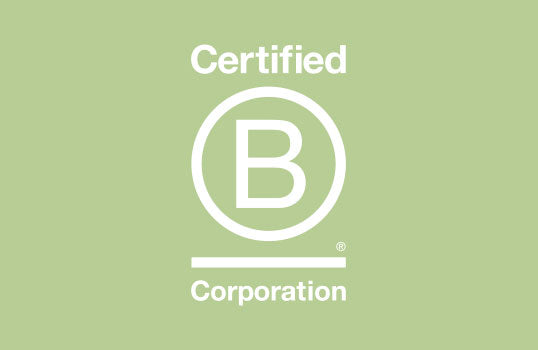 For Muddy Puddles, the accountability of the B Corp certification and the complexity of the B Impact Assessment felt like the right way to validate our progress over the last 5 years.
The team at Muddy Puddles have worked hard towards being leaders in sustainability within the fashion industry. We've moved from a single collection of waterproofs with a recycled outer fabric to the entire Muddy Puddles waterproof range being fully constructed from recycled fabrics. Our waterproofs have non-toxic finishes (BIONIC-FINISH®ECO or OEKO-TEX Standard 100). We have also moved to corn starch packaging, recycled tags, organic cotton string and Forestry Commission approved postal bags.
Our people are very important to us, we strongly believe in a happy and engaged workforce being key to the success of a business. Our staff are employed on part-time flexible contracts that fit around their busy lives and allow them to achieve a good work-life balance.
The small handful of factories that we work with have been our partners for more than 7 years. They are fully vetted and inspected every year by Amfori (formally BSCI) and before the COVID-19 pandemic we visited each year to build strong working relationships and to see their operations ourselves.
We use the independent reviews provider Feefo to collect feedback from our customers. We also send out surveys to our loyal customers and spend time looking at any positive or negative reviews and product suggestions that we receive through these channels and our own dedicated customer service team.
Completing the B Corp™ Impact Assessment was a challenge for a small business like Muddy Puddles, however it helped us to formalise our existing processes and clarified our plans for the future.
Going forward the goal is to improve on our score which currently sits as 89.6. The Impact Assessments automatically identifies the areas to work on and it will be those areas that we focus on over the next 2 years leading up to our re-assessment in 2025.