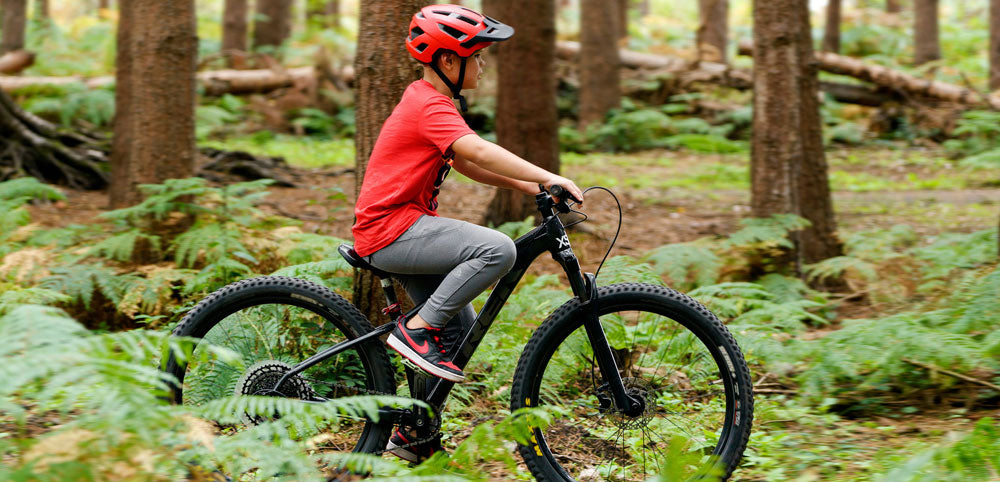 Be a Forest Rider this Summer with Forestry England
Grab a pack, get on your bikes and explore the outdoors with Forestry England's brand-new challenge.
Need an exciting family activity to take you through the summer? The new Forest Rider packs are a fun way to help children aged 7-12 hone their cycling skills and encourage them to explore forests on two wheels.
Forest Rider from Forestry England challenges children to record and rate five off-road rides and see what they can find as they explore the forest on their bikes. Aimed at 7 – 12 year olds, it's designed to build their skills and confidence while learning how to be a safe and responsible Forest Rider, whether they're just getting started or brilliant on their bike already. The accompanying packs include everything they need to track their progress and have fun while they're doing it. Available to order online and at selected Forestry England sites, each pack contains a logbook to record their rides: where and when they went, a description of the ride, what they saw and how it made them feel. There are also 'Pro Cycle' tips and tricks cards with links to demonstration videos to help them practice their skills and become the best cyclist they can be, a cool Forest Rider neckbuff, stickers, fun activities and more. There is also the chance to enter a competition to win an amazing cycling bundle worth £500!
Cycling is an excellent way to experience the great outdoors and is a fantastic activity that can be enjoyed by the whole family. With 1,300km of amazing off-road trails, Forestry England provides fun and practical ways for people of all abilities and experience to feel confident in hitting the trails, allowing them to enjoy nature and benefit from being active outdoors. As well mountain bike trails, they have a whole range of family cycle trails, pump tracks, skills loops and play trails, which are perfect for the younger members of the family or those looking to develop their confidence on two wheels. With better weather in the summer months ahead, why not make a day of it? Head out for a morning bike ride and then try another fun family activity in the afternoon. From Superworm activity trails and Gruffalo Orienteering to children's play areas and more, there's plenty to keep everyone amused. Ideal if your family all have different ideas of the best way to enjoy a forest adventure!
And for those days when you can't make it out to the forest, the kids can practice some of their Forest Rider skills at home or a nearby outdoor space too. So what are you waiting for? Encourage your kids to get out and active on their bikes and learn how to be a responsible Forest Rider. Grab your pack, pull on your Forest Rider neck buff and go! For more details, visit www.forestryengland.uk/forest-rider