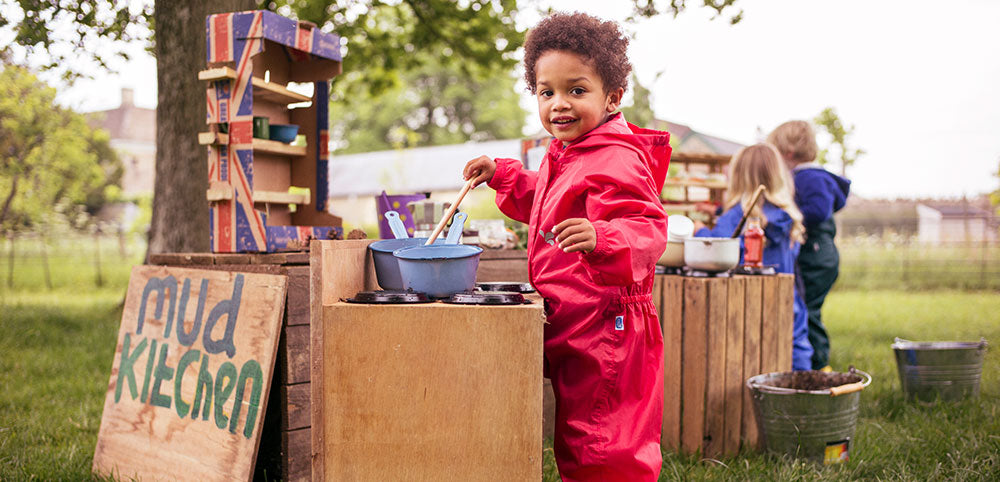 5 Benefits Of Mud Kitchens
Mud kitchens are a great way
to promote messy play and help children connect with nature.
Whether you have a large garden or a small shared yard, you can create your own mud kitchen allowing children to enjoy the magic and excitement of nature play in the comfort of their own surroundings. Read on for 5 benefits of mud kitchens.
1) Connecting to nature
With the constant rush of daily life it is not always practical to get out into the countryside, but the same benefits can be recreated in the smallest of outdoor spaces. Outdoor play inspires children to feel a connection to nature and develop an appreciation for the environment.
2) Provide focal point in your garden
Bringing children of all ages together. Pre-schoolers and older children alike benefit greatly from immersive messy play. Children need regular sensory input for their all-round good health and wellbeing.
3) Sensory play
Supports language development and cognitive growth. Children learn to problem solve through social interaction by sharing ideas. Use of real tools in play situations develops fine and gross motor skills.
4) Mud play
The open-ended nature of mud play encourages creative thinking and allows children to freely create without fear of making mistakes, contributing to a child's sense of self, and helping to build confidence. Not to mention the huge health benefits of immune boosting dirt!
5) Imagination
Allowing curiosity, exploration and experimentation in an open-ended way allows a child's imagination to flourish!
Our top tips:
Provide resources such as mud, water, flower petals, pans, beakers and tools to extend children's play. Leave them to it, its great to see what they come up with!
Allow them to collect their own ingredients from around the garden or when you are out and about, such as pine cones, rocks, daisies and dandelions.
Remember it's the process, not the product (although you may be handed some culinary delights!)
Join in! Show that its ok to get your hands dirty.
Dress appropriately! Nobody likes to be cold and wet.