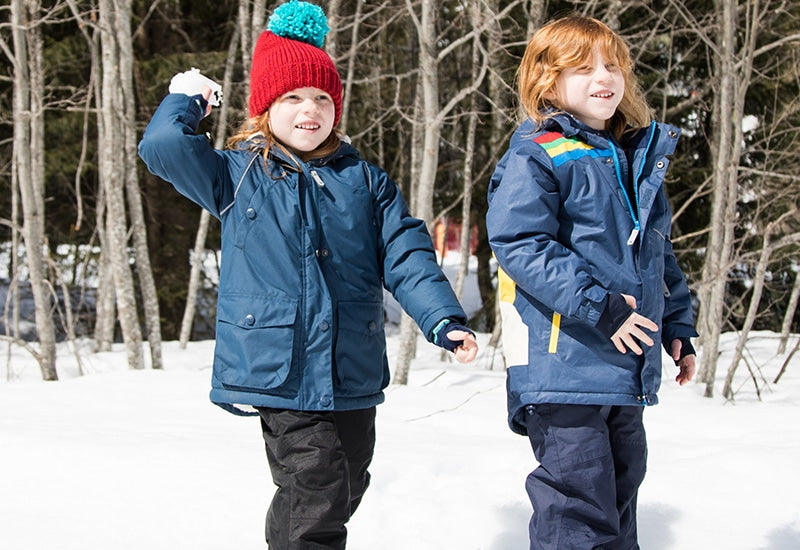 3 Creative Ways to Make A Snowman With Your Children This Winter
Building a snowman is one of our favourite winter activities (let's hope for some snow this year so we can build one or at least make snow angels!). We're not always lucky enough to have a snow day, but the good news is that we can make a snowman out of everything, no matter what the weather brings.
Read on to discover 3 creative ways to make a snowman out of things other than snow this winter.
1) Sock snowman
Turn your pairless socks into a lovely DIY gift or a handmade decoration.
You'll need:
- 1 white sock - 1 sock in colour for the hat - Rice - Thread or rubber band - Colourful buttons - Strong glue or glue gun - Black marker - Orange pom poms - Ribbon 
Instructions:
Fill one white sock with rice and knot the top or tie it with the rubber band/thread
Place another rubber band in the middle of your "snowman" to create to round sections (body and head)
Take your colourful sock and cut off the toe part. Roll it a little bit and place on the head of your snowman. Secure it with some glue.
Glue your colourful buttons down your snowman's "belly"
Draw the eyes and the smile with a black marker
Glue on two orange pom poms (nose)
Tie a ribbon around your snowman's neck to make a scarf
2) Tin can snowman
Use empty cans to make a lovely tin can snowman. This is a super simple and fun craft and you can use your snowman as a desk tidy You'll need: - 1 empty tin can (washed and dried) - White acrylic paint - Paintbrush - Buttons for eyes and body - Felt for nose (orange) and scarf (any colour) - Strong glue  
Instructions:
Paint your can in white and allow it to dry
Glue on eyes, nose, scarf and buttons
Your snowman is ready!
3) Light-bulb snowman
If you have any spare burnt out light bulbs, turn them into these cute homemade winter decorations.
You'll need:
A used light bulb
White spray or paint + black and orange paint for nose, eyes/smile and buttons
Two small twigs for the arms
Strong glue/glue gun
A ribbon for the scarf
Brushes 
Instructions:
Spray paint or paint your light bulb white and allow to dry
With a small brush, dab two black dots (eyes) on the light bulb and a couple of smaller dots (smile and buttons)
Paint a triangle (nose) with your orange paint
Glue your twigs (arms) on the sides on your light bulb and paint them black
Glue your ribbon around the snowman's neck or create a small bow with ribbon and glue it on the neck
Have you ever tried making a snowman with other things than snow? Let us know in the comments below.