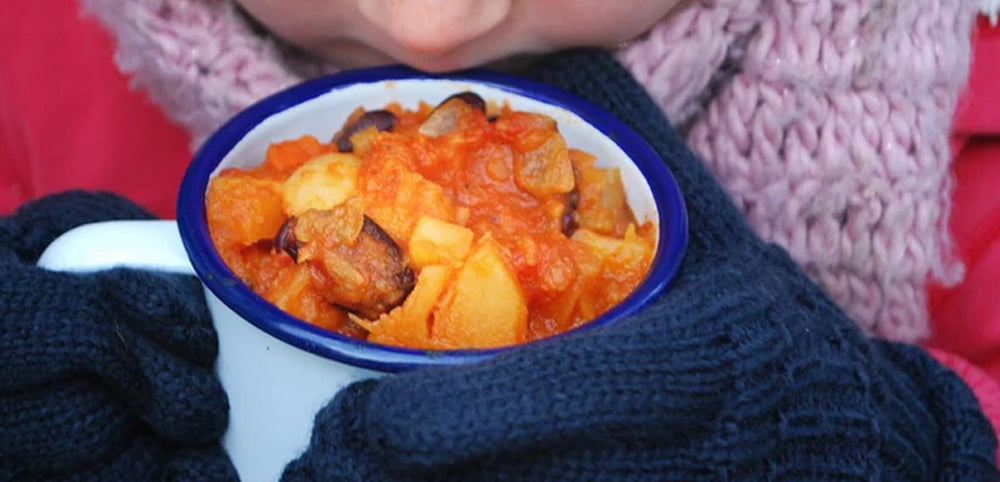 3 Easy Winter Recipes For Children
If you're searching for tasty recipes that are not only delicious but also healthy for your little ones – look no further. These winter warmers are not only yummy, but also super easy to throw together in no time.
Keep those little tums happy this winter - here our some of our favourite simple winter recipes.
 We're sure your little ones will love this warming pasta bake. It's simple yet filling and flavoursome.
Ingredients:
250g shell pasta
100g unsalted butter
2 bay leaves
1 onion, finely chopped
3 garlic cloves, crushed
1/2 bunch sage, roughly chopped, plus extra whole leaves
1 tbs plain flour
900ml pure (thin) cream
200g smoked cheese, coarsely grated
1 1/4 cups (100g) finely grated parmesan
1 large cauliflower, blanched until just tender, cut into wedges
1/4 tsp freshly grated nutmeg
Instructions:
Preheat the oven to 200°C. Grease a 2.5L baking dish. Cook pasta according to packet instructions, drain and rinse under cold water. Set aside.
Heat butter in a large fry pan over medium-high heat. Reduce heat to low and add bay leaves, onion and garlic, and cook, stirring occasionally, for 5 minutes or until onion is softened and butter is lightly browned. Discard bay leaves.
Add sage and flour and stir for 2 minutes to cook out flour. Gradually add cream, stirring until smooth, then add half smoked cheese, Parmesan and cooked pasta, stirring to combine. Crumble in two-thirds of the cauliflower. Add nutmeg and season.
Transfer to prepared dish. Top with remaining cauliflower and remaining 100g smoked cheese, and scatter with extra sage. Bake for 30 minutes or until golden.
 This is a deeply warming, fragrant and aromatic recipe that is sure to be a hit with all the family. It would also work beautifully as a delicious dinner party meal.
Ingredients:
Coconut oil or ghee (for cooking)
Fragrant Spice Mix
1 cinnamon stick
2 thumb sized piece of fresh turmeric
¼ whole nutmeg
6 whole cloves
6 cardamom pods
6 All Spice berries
6 dried apricots
1 large clove garlic, finely chopped
10 prunes
400ml chicken stock (preferably homemade)
2 onions, finely chopped
4 chicken thighs, boned and cut into bite sized pieces
Fresh pomegranate seeds
A handful of Coriander leaves
Toasted flaked almonds
Instructions:
Place all the spices into a blender or coffee grinder and blitz to a fine powder.
Next add some coconut oil or ghee to a saucepan and cook the onions on a medium heat until softened and slightly coloured. Add the garlic and cook for 30 seconds.
Then add the chicken pieces to the pan and stir to seal.
Add in 2 generous tsp of the fragrant spice mix and stir to combine. If the onions & spices are starting to burn or catch on the bottom of the pan, simply add a splash of water.
Pour in the chicken stock which will bubble and begin to reduce. Next add the dried apricots and prunes, bring up to a gentle boil and then a simmer. Place the lid onto the saucepan and cook gently for 10 minutes.
After 10 minutes remove a piece of the chicken, cutting it in half to check it is cooked through, then return it to the pan. Take the pan off the heat and move the chicken pieces to one side and the prunes and apricots to the other. With a hand blender, blitz the apricots and prunes (avoiding the chicken) to make a quick sauce. Stir everything together and serve hot. Scatter with torn coriander leaves, toasted flaked almonds & pomegranate seeds if desired.
Stews are a brilliant way of combining pulses & beans with vegetables to provide a real nutrient boost for children. You can adapt this recipe to include other seasonal root vegetables or pulses and try adding different spices combinations for variety.
Ingredients:
Coconut oil
Butter for sweating
1 onion – chopped
1 cloves garlic finely chopped/ pasted
1 tablespoon tomato puree
2 carrots – chopped
2 celery – chopped
2 parsnips – chopped
1 tin chopped tomatoes
1 small tin butter beans
1 small tin kidney beans
1/4 teaspoon smoked paprika
500ml chicken stock
A few sprigs thyme
Instructions:
Place a tablespoon of coconut oil (or butter) into a large saucepan (with a fitting lid) and on a medium to low heat warm through and melt.
Add in your onions and allow to cook through and soften gently – this will take about 5-10 minutes.
Add in your carrots and celery and cook and soften for a further 5 minutes.
Add in the parsnips and cook for a few minutes and then the garlic. Cook the garlic out for no more than a minute before adding in the tomato puree and smoked paprika and then the chicken stock, chopped tomatoes and sprigs of thyme. Bring up to a boil and then down to a simmer.
Place the lid on the saucepan and cook all the vegetables for 10-15 minutes on a gentle simmer until cooked through.
Take the lid off and add in the kidney and butter beans and cook everything together for another 10 – 15 minutes. You want to reduce liquid down so it's not watery and a stew like consistency.
Taste and season to your liking. Remove the sprigs of thyme before serving.
What are your favourite winter warmers? Leave us a comment below.