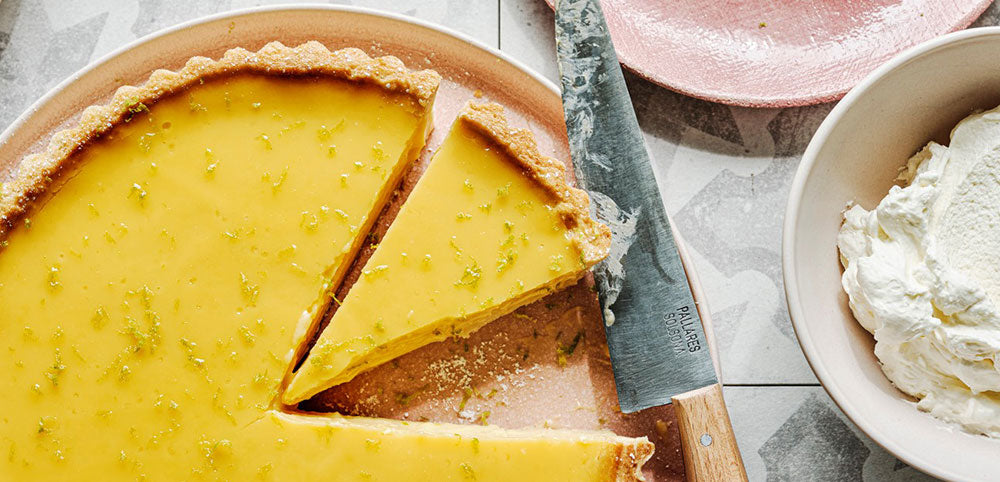 Freezer Friendly Passionfruit Tart from ByRuby
Nothing says 'I love you mum' quite like a homemade sweet treat. There is something about being cooked for, especially if you are the one that usually does a lot of the cooking, that feels seriously special and personal.
What's great about this recipe is how incredibly easy it is to make, not to mention it's delicious and looks impressive. It's the perfect pud to get your kids involved in making. Even better, it freezes brilliantly, so if you've got a busy week ahead you can make this in advance (preferably when you know mum's going to be out so you can keep it as a surprise!), and tuck it safely away in the freezer until the time is right.
If you're feeling up to it you can make the pastry from scratch, but to make this kid friendly and to save you a bit of time, we've adapted it using shop-bought pastry, which in all honesty tastes just as good and saves a lot of faff. This recipe serves 6 (1 x 24cm tart) and is taken from ByRuby's cookbook 'FREEZE'.
Ingredients
For the passionfruit cream:
5 eggs
100g caster sugar
170ml shop ready-made passionfruit purée (Funkin Pro Passionfruit Puree is good)
70ml double cream
Method:
Roll your shop-bought shortcrust pastry out on a lightly floured work surface large enough to line a 24cm tart tin. Lay the pastry over the tin and press it gently into the corners and sides, using a bit of spare dough as it will be a little sticky, then patch up any holes with more spare dough. Freezer for about 15 minutes until firm.

Meanwhile, preheat the oven to 160ºC, Gas Mark 4

Line the pastry case with non-stick baking paper and fill with baking beans. Bake for 20-30 minutes until the sides are pale golden brown

While the pastry case is baking, beat the eggs with the sugar in a large bowl until well combined, then stir in the passionfruit purée and cream. Pour the mixture into a pan and heat over a low heat, stirring constantly, until just a bit water than body temperature, about 40ºC on a food thermometer

Remove the pastry case from the oven and lift out the paper and beans. Pour the passionfruit cream very carefully into the pastry case, being careful not to spill it over the edges, and bake for 10-15 minutes until the filling is just set but with a slight wobble in the middle. Leave to cool completely in the tin.

If serving now, remove the tart from the tin and dust with icing sugar. The cooled (or defrosted) tart can be kept in the refrigerator covered with cligilm, for up to 24 hours.
Freezing tips:
Wrap the tin with the cooled tart in it tightly in clingfilm or foil. Label and date before freezing.
To serve:
Defrost in the refrigerator for 24 hours. Leave at room temperature for 2 hours before serving, dusted with icing sugar.
A rich and creamy pudding, packed with flavour and vibrant in colour, serve your passionfruit tart with some softly whipped cream sweetened with a bit of icing sugar and spiked with lime zest.
Then sit back and watch the delight on mum's face when she admires your masterpiece and tucks into her well-deserved treat!