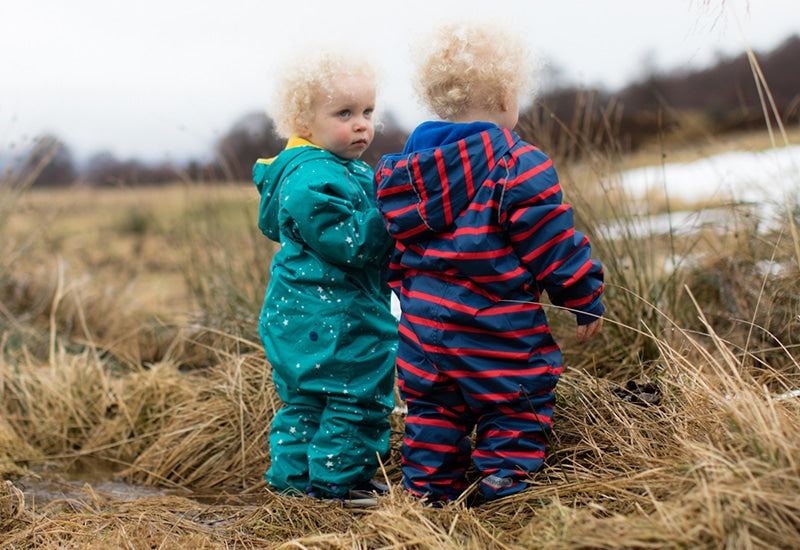 How To Get Children Outdoors - 10 Questions To Jamie of A Day In The Life Dad
We've asked Jamie, a brilliant award-winning blogger of A Day In The Life Dad and a dad of two adorable adventurers, for his secrets for getting children outdoors.
We know getting your little explorers active is not always easy, especially if you're an urban parent. We've decided to ask our favourite bloggers for their top tips on how they make time for outdoor activities to inspire all the wonderful parents out there!
 Jamie's adorable explorers, Edie (5) and Arlo (2)
1) Hi Jamie, we're delighted to have you as a guest on our Muddy Blog! For those who are new to your blog how would you describe yourself in a few sentences?
As a stay-at-home/work-from-home father of two, I like to think of myself as someone who's got their finger well and truly on the modern-day parenting pulse, but in reality, my finger is just repeatedly on the anti-bac's trigger as I clean yet another dirty potty…
2) Can you tell us a bit about how you started the blog and what you write about?
I've always loved writing, even before kids. I used to write for music sites, football magazines and have even written an unpublished (boo-hoo) novel, so when the kids came along, I wanted a platform (
www.adayinthelifedad.com
) where I could capture our family life, 'a day in the life' if you will (sorry, complete cheese). There was literally a handful of dads blogging back then, and only a few months into my journey I won a national blogging award and then quickly found myself being offered the opportunity to write for magazines and websites about life as a dad, which in turn has lead me to work with some fabulous global and independent brands.
3) What were your favourite outdoor activities as a child?
We grew up in the countryside, and when I say 'countryside', I mean it. We were surrounded by endless fields and woods, our tiny local primary school had about 7 pupils and going to our neighbouring (and larger) village with its Spar and fish and chip shop, felt like we were stepping into Manhattan. Because of our immediate surroundings, we spent most of our time outside. We'd go for long dog walks, play football and I also have fond memories of spending weekends and school holidays camped out in the woods with my friends, building dens, camouflaging our faces with mud (not sure I'd recommend this now), climbing trees and surviving off a small ration of Jacob's Cream Crackers and a bottle of lukewarm water that would have been in an old Robinson's Orange bottle. Eat your heart out Bear Grylls. 
4) How much time do you spend outdoors with your children in a typical week?
Continuing the countryside theme, we live in a small village now too. Not quite as remote as the one I grew up in, but the surrounding land cries out for time outdoors. As a stay-at-home dad, I take my daughter, Edie, to school, and straight after drop-off, my son, Arlo, and I head out for a long dog walk round our local fields and woods. En route we'll stop to hunt for bugs, climb fallen trees and what with it being autumn, collect conkers. If anyone needs any, let me know – we seem to have about 8 million of the darn things! We'll try and squeeze in a quick walk after school too, so Edie can get her fill of fresh air, and weekends follow a similar pattern with lots of time outdoors, either on walks or trips to the swings.
5) What are some of your children's favourite outdoor activities?
As mentioned above; collecting conkers. They both also love building dens from fallen branches, picking blackberries and just simply 'legging it' across wide open meadows…
6) How do you make time for outdoor activities with school and work in full swing?
I work from home, so thankfully I can squeeze lots in. We always walk the dogs straight after the school run, whatever the weather, so that gives Arlo a chance to burn off some early morning energy, and then as I mentioned, we try and squeeze in some more time outside on the return journey when Edie's around. If the weather's ok, the kids spend most of their time out in the garden when we get home too… It can sometimes be a battle getting them outside given the appeal of Netflix, so the garden often has to take on a resemblance of a cheap version of Alton Towers just to ensure they're out in the fresh air. 
7) How do you encourage your little ones to spend more time outdoors? Could you give us a few tips and tricks?
I think the key to it all (except for hiding the Netflix remote), is joining in their outdoor adventure, whether that's in the garden, the countryside or in a city park. What might be a few bits of old mossy wood to us, are trusty swords, wands and Stickman to them. If there's a tree that can be climbed, climb it (disclaimer: don't sue me if you fall out). If there's a den that can be entered, get in there with them – you taking your seat on a rotten old log that they see as a royal throne, will make their day.
8) Why do you think being outdoors is important for children?
There are so many reasons to encourage our children to spend more time outdoors, but just off the top of my head: discovering nature and the environment, the health benefits of running around, climbing, jumping and fresh air, and brilliantly, it stretches their imagination.
9) How do you kit your children out for outdoor play?
Always weather dependent, but that said, we don't let the weather stop us. If it's raining, we'll get the wellies and waterproofs out – kids love muddy puddles, it's a proven fact, just ask Peppa Pig. Although with that logic, it's also a proven fact that bulls dig up roads.
10) What advice do you have for urban families who want to spend more time outdoors?
We actually used to live in Islington, North London, so we're well used to getting outdoors in the city too. I believe we're blessed in the UK with city parks, canal walks, lidos, sports fields, petting farms and skateparks, so with a little planning (locations, routes, weather), time outdoors can still be enjoyed wherever we are. And children don't need acres of rolling land; a playground can provide the backdrop for their alien adventure and even the smallest of football pitches will quickly transform into Wembley in a child's eyes… Thank you so much, Jamie!
Follow Jamie on Instagram
Of course, we couldn't help but share a couple of Jamie's adorable photos :)
 Photo credit: @adayinthelifedad
 Photo credit: @adayinthelifedad
 Photo credit: @adayinthelifedad