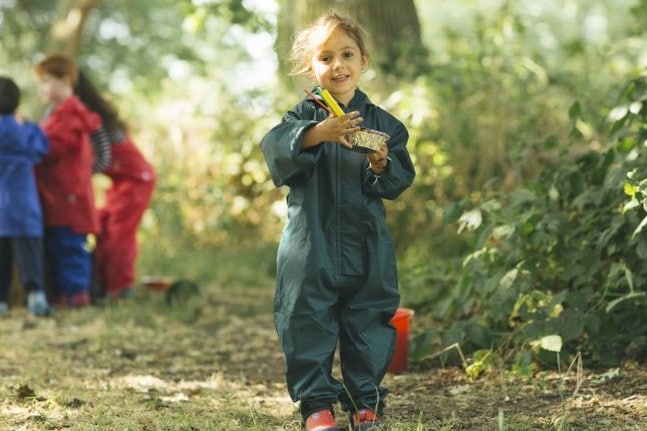 Learning Objectives
Writing:
- Develop positive attitudes towards and stamina for writing by writing narratives about personal experiences and those of others (real and fictional)
Resources
- Fallen leaves from a variety of tree and plant species
- Glue
- Tape
- Paper
- Pencils
- Clipboards
- Tubs
- Compass
Introduction
Read Leaf Man by Lois Ehlert as a class. Talk about the journey the Leaf Man goes on and what takes him on the journey? Show the class the inside of the book, and the illustrations that name the leaves. Look at how the illustrations are all made from leaves and look at the different colours and sizes of them.
Tell the class they will be making their own Leaf Man book – and there may be a leaf man of their own waiting for them outside.
Activity - Leaf Man Leaves School
When the class are outside, look around the school grounds, asking the children to collect as many leaves as they can, in all sizes and colours.
Ask the children to think about what the Leaf Man would see if he should be travelling around their school.
Group the children into four groups and give each child a pencil and paper. Ask each group to visit the natural areas of the school grounds and to write or draw where their own leaf man could visit. Ask the children to think about what is above the ground and below the ground, what would he see if he was flying in the wind, how would the school look from the air? Allow 10 minutes.
When together again, discuss as a class interesting ideas for their story. Develop a rubric together that defines what would be a good story or interesting for the listener, and what would not be.
Model examples such as, Our Leaf Man went over the playground, versus, 'The Leaf Man rose in the warm breeze and saw our school playground from high".
Once the criteria has been decided, take turns to write a story about a Leaf Man from the school grounds. Each child should take turns and offer a sentence or idea, and as a class decide on a repeating motif or sentence to feature in the story.
Ask the children to write as you dictate the story together. Ask the children to use the leaves to arrange and stick leaves to their story.
Extension Activity
Look at the leaves collected, and stick them on a large card. Using the leaf Identification guide, label accordingly.