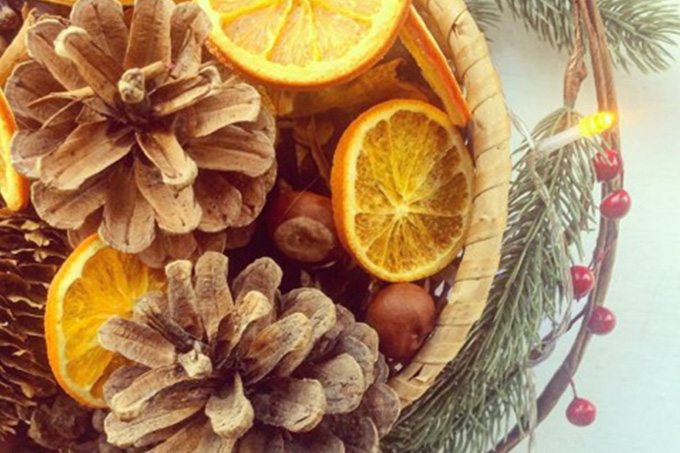 Make Festive Potpourri with Toby & Roo
Get your festive craft side in full swing & make festive potpourri with
Toby & Roo
here!
---
Potpourri is insanely easy to make and it's one of those things that can literally lift and coordinate a room, set the tone and scent it in one - you show me a candle that can do all of that!  When we were given a massive bag of pine cones from my in laws, I instantly knew I would be using some of them for a potpourri basket to put in the living room on top of the sky box in order to stop the dreaded overheating from the cats curling up on top. As planned, we did make potpourri and because it's so easy it took minutes, using up ingredients that I already had knocking about the house and some that I had collected when I went for a little walk with Toby.  Here is what we did to make our festive Autumnal/Winter potpourri:
Fill the basket with different shapes pine cones, small and large, long and squat.
Add a couple of handfuls of conkers, a few sticks of cinnamon (which you can buy from any craft store - try to avoid the supermarket ones as they are edible grade and therefore cost a fortune, decorative cinnamon is cheap as chips but not for nibbling!) and the dehydrated slices of orange (or if you want lime and/or lemon) - which can also be bought at any craft place, or you can slice up and orange.
Place it on a clean baking tray and set your oven to a very low heat (GM 1 or 1/2 would do it)
Leave it in the oven over night or for 8-12 hours.
Once you have arranged your potpourri, add 20-30 drops of your chosen essential oil.
At this time of year you can use berries, winter oil, frankincense, myrrh, orange, cinnamon or sandalwood. I bought an essential oil mix of cinnamon and orange and it will last all week, only need a spruce up once in a while. It's heavenly and not only does it look pretty, but it sets the tone too!  If you wanted to go for something a bit more Christmassy, you could add craft berries, or dehydrated berries (just be careful with little ones that they don't put these in their mouth) or Christmas tree clippings. Give it a go. H x
---
For girls winter coats, boys raincoats, toddlers snow boots & kids waterproof jackets see