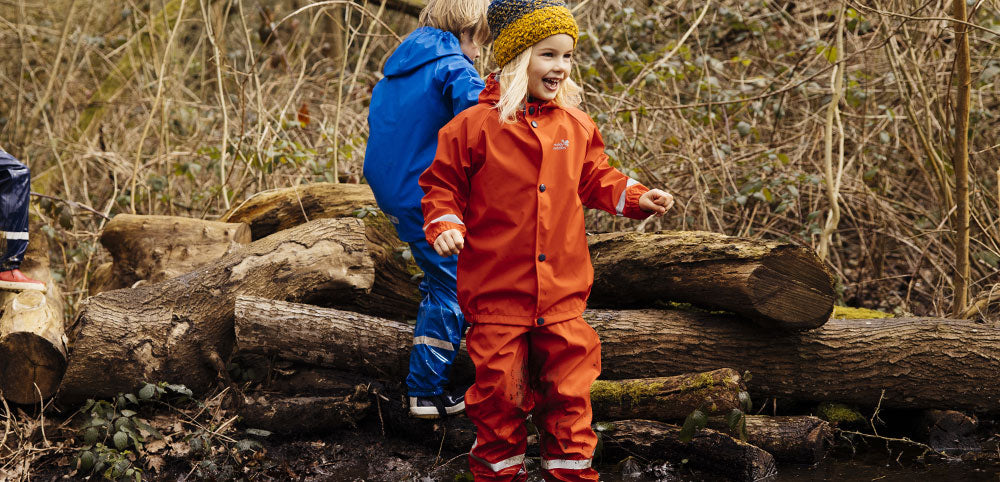 10 Ways To Make Your School More Sustainable
At Muddy Puddles we're all about making clothes to protect children on their outdoor adventures in all weathers while making sure we're kind to our planet. Sustainability is one of the most important values in our business and in everything we do. Educating our children about sustainability is more important than ever, and the classroom is the perfect place to inspire the next generation to make a change.
We're bringing you our top ten tips for easy ways to make School more environmental, reduce waste and our lower our carbon footprint.
1) Walk, walk, walk
Encourage pupils to walk to school by having a walk to school awards chart where you get to add a sticker for every day you walk to school (or at least part of the route) and each half term give a certificate to all pupils with the most stickers. Or if that feels too much then choose a day of the week where you encourage everyone who can to walk to school and make a point of it in assembly (at our office we have established 'walk to work Wednesday')
2) Reduce paper
This is a big challenge when it is always easy and tempting to print off work sheets and colouring in and sometimes there is really no option but where possible printing back to back can help to reduce waste. 
3) Ban plastic wrapper snacks
This is something that has happened at my daughter's school and it has been great. Firstly it obviously reduces waste and landfill and secondly it tends to lead to healthier snacks like fruit, oatcakes with healthy sugar content.
4) Get some fresh air in the classroom
Add some plants to the classroom and appoint a plant monitor to look after them. It is really effective way to incorporate nature into your teaching space and to help purify the air. The experts at NASA state that bamboo palms, English Ivy and rubber plants help reduce stress by purifying the air. 
5) The classroom recycle station
Get every member of every class thinking about what can be recycled and how by having a classroom recycling station in each class. This can be managed by to Recycling Monitors who make sure that everyone is recycling and takes the materials from the classroom recycling station to the main school recycling.
6) Sustainable and healthy food
Take a look at the school dinners and see if you can find local partners to help source and eat more sustainable and healthy foods. We love the scheme launched by Chefs in School who work with schools and professional chefs to transform the sourcing, cooking and eating of food in schools.
7) Outdoor space to take care of
Find some outdoor space to tend and care for and in an ideal world turn in to an outdoor classroom or garden. One of the best ways to create the next generation of individuals who care about the planet is to get children engaging with nature and appreciating its value from the age. School gardening clubs, forest school and outdoor learning all help this immensely. We have had the privilege of suppling a number of schools who do this in an amazing way with hardly any open space such as Rhyl School in Camden who have achieved Oustanding from Ofsted while championing outdoor learning.
8) Energy efficiency
Just making sure everyone in the school is turning off lights and computers and other power sources or using a green energy supplier to support renewables such as Green Energy which is very competitive with excellent service.
9) Keep count
Combine practice graph and data analysis with raising awareness about the amount of waste the school is recycling. Create a green data wall in the school hall and keep track of the quantity of items recycled from each class. You can also unify your classroom theme by adopting a green mantra. Display it prominently in your classroom. Ideas include: My choices make a difference. We have the power to make a difference in the world.
10) Data, data, everywhere
Practice graphing and data analysis skills by creating a "green data wall." At the end of each week count up the number bottles and cans in your recycle bins and weigh recycled paper. Create a graph in your classroom to track your recycling efforts over time. Incentivize students with parties and prizes for increasing the number of items recycled, just remember to reinforce to students that while recycling is good, the overall goal is reduce consumption!