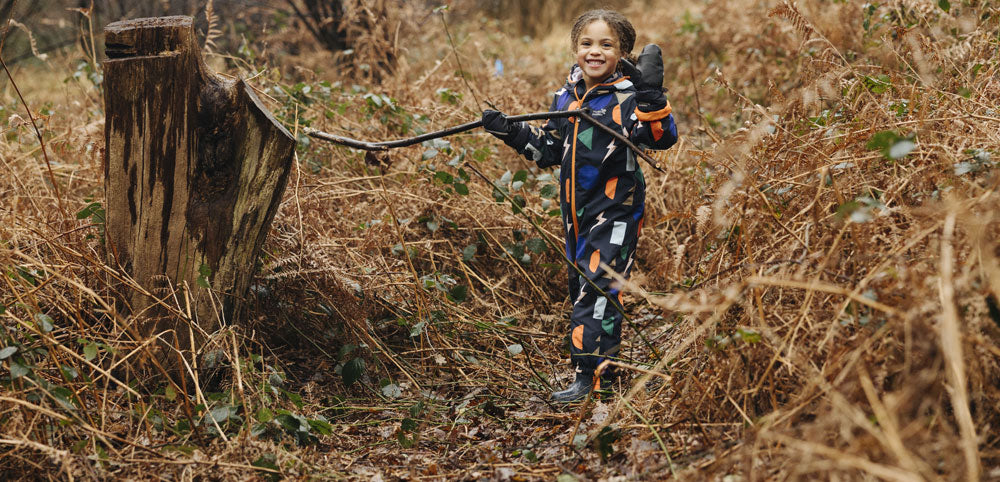 Our EcoSplash Puddlesuit and EcoLight Puddlesuit Featured in Women's Health
We're delighted to see that our EcoSplash Puddlesuit and EcoLight Puddlesuit have both been featured in Womens Health's round up of the best puddlesuits for kids.
Our EcoSplash Fleece Lined Puddlesuit is a waterproof all-weather favourite, keeping your little one warm, dry, and cosy on even the wettest of days. It features taped seams for added waterproofing, a cosy and warm fleece lining to keep kids warm when they're playing in the snow, an extra long waterproof zipper to make it easy for little ones to dress themselves.
Our EcoLight Puddlesuit is perfect for Spring and Summer adventures. These super waterproof and lightweight all-in-one suits are the perfect practical product to keep little adventures warm and dry on their outdoor adventures, designed with crawling, sliding and splashing in mind.
Read on to discover what Women's Health had to say about our puddlesuits.
EcoLight Puddlesuit "This funky weather-inspired puddle suit is perfect for splashing about in and playing in the park in all seasons. It's waterproof to 10,000m in case the puddles are seriously deep, and breathable to 3000g/m2 so your little one won't overheat. And if it gets really cold? The EcoLight fabric protects against windchill too, so your little one will be well set to explore in every kind of weather. We particularly like how light it feels, while the sort jersey lining and elasticated cuffs and hood keep things super cosy. Best of all the extra long zip makes it easy to peel off after an especially wet day outside. Ages: 6 months - 2 years Best for: Wet and windy weather"
EcoSplash Fleece Lined Puddlesuit "Another super stylish puddle suit from our friends at Muddy Puddles, this is one of the coolest looking rainwear options on our list so it should help you convince your reluctant toddler to stop stalling and put their coat on before you hit the park (we can try anyway). Designed with wet weather in mind, it features taped seams, elasticated cuffs and adjustable stirrups, so it's ideal for wearing over wellies and giving those puddles a run for their money. Extra kudos for the long zip which helps wrestle toddlers out of wet clothes once you make it home, and best of all it's made from recycled plastic bottles so it has eco cred too. Ages: 0 - 7 years Best for: Rainy weather"