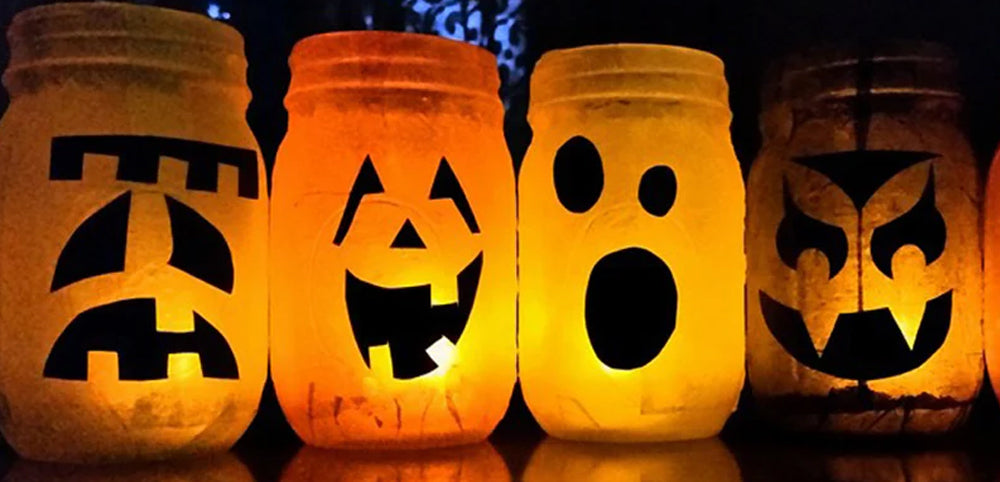 5 Super Simple And Fun Halloween Crafts for Kids
Halloween is just around the corner! For spooky fun, find out how to make these simple Halloween crafts.
Here are our favourite Halloween crafts to make with your children. Have a fang-tastic time!
Source: Vicky Barone
1) Pumpkin apple stamps
Pumpkin apple stamps are perfect for Halloween and we're sure your little ones will love making them.
You'll need:
- Apples
- Orange, green and black paint
- Paint brushes
- Sheet of white paper
Instructions:
- Cut your apples in half
- Pretend the inside of the apple is a stamp: dip it in orange paint and stamp it on white paper
- Finally, paint a leaf and stem of the top of your pumpkins using green paint and a paint brush, and paint on a spooky face using the black paint – your pumpkin apple stamps are ready! 
Source: Red Ted Art
2) Halloween lanterns
These easy mason jar Halloween lanterns will make your home look super Halloween-y. Plus, they're so easy to make and really spooky!  
You'll need:
- A couple of big, clean jam jars
- Orange tissue paper
- PVA glue
- Black paper
- Artificial tea lights
Instructions:
- Cut your tissue paper in squares, cover the jar in glue and apply the tissue paper.
- Cut Jack O'Lantern faces out of black paper and glue them on the tissue paper
- To finish, place the artificial tea lights inside.
Source: Bren Did
3) Tangerine pumpkins – healthy Halloween snack
You'll only need 2 ingredients to make these fun and healthy Halloween snacks.
You'll need:
- A few tangerines
- Celery stalks
Instructions:
- Peel your tangerines
- Cut 1 or 2 celery stalks into small pieces
- Insert the celery in the middle of each tangerine so that they look like pumpkin stems
Source: The Simple Parent
4) Paper plate pumpkins
These spooky paper plate pumpkins are super easy to make. Even the smallest adventurers can make them with (almost) no assistance.  
You'll need:
- Paper plates
- Black paper or marker
- Green pipe cleaner
- Orange paint
- Scissors
- Glue
Instructions:
- Cover your plates in orange paint
- Cut out the shape of eyes, mouth and nose from black paper or draw them with a black marker
- Curl a pipe cleaner around a pencil and attach to the plate
- Your paper plate pumpkin is ready!
Source: Ma's & Pa's
5) Wooden spoon bats
These lovely wooden spoon bats are such an easy Halloween craft - perfect for the little artists.  
You'll need:
- Wooden spoons
- Black paper
- Black, white and red paint
- Paintbrush
- Scissors
- Glue
Instructions:
- Paint your spoons and let them dry
- Cut bat wings from black paper. Tip: fold the paper in half, draw a bat wing shape and cut it out. Paint on thin lines in white paint. Glue to the spoon to attach
- Cut two bat ears from black paper (two small triangles), paint tiny pink triangles in the middle, and glue them to the top of the spoon
- Paint on the eyes, smile and fangs
- Your bats are ready!