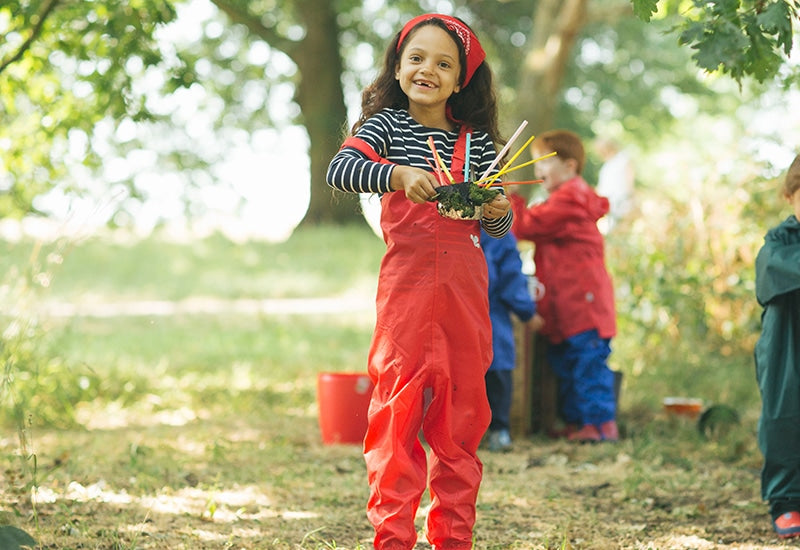 EYFS - Literacy – Straw, Sticks and Bricks
Learning Objectives
Literacy – Reading – Comprehension:
- Becoming very familiar with key stories, fairy stories and traditional tales, retelling them and considering their particular characteristics
- Recognising and joining in with predictable phrases
Resources
- Pens and pencils
- Sticks, rope, straw
- Bowl of mud
- Small sticks and larger den making poles.
Introduction Activity
Discuss with the class their knowledge of traditional fairy tales such as Three Little Pigs, Rumpelstiltskin, Rapunzel, Goldilocks and the Three Bears. Discuss as a group favourite stories and characters.
Ask the children about the settings of each tale, is it a woodland, countryside setting?
Tell the children the story of the Three Little Pigs, pausing and prompting the children to repeat the motifs, and predict what will happen.
Tell Me a Tale
Take the children outside with the resources.
Discuss features of the tales such as the characters, the plots, and the settings.
Allow the children to experiment with the natural materials to make small world versions of a straw, a stick and a brick house.
Re-group the children into groups of five or six children, and challenge the children to come up with their own versions of the fairy tale, encouraging them to experiment with elements of the tale such as characters, sequence or setting.
Encourage the children to engage and use the natural environment as a prompt for their story, and use space to retell their stories, allowing 15 minutes to prepare.
Gather the class together outside and ask each group to perform their stories to the whole class, and ask the children for opinions of each performance, encouraging positive reflections.
Extension Activity
Offer the children time to make another version of the stick house by building a den with the larger sticks.