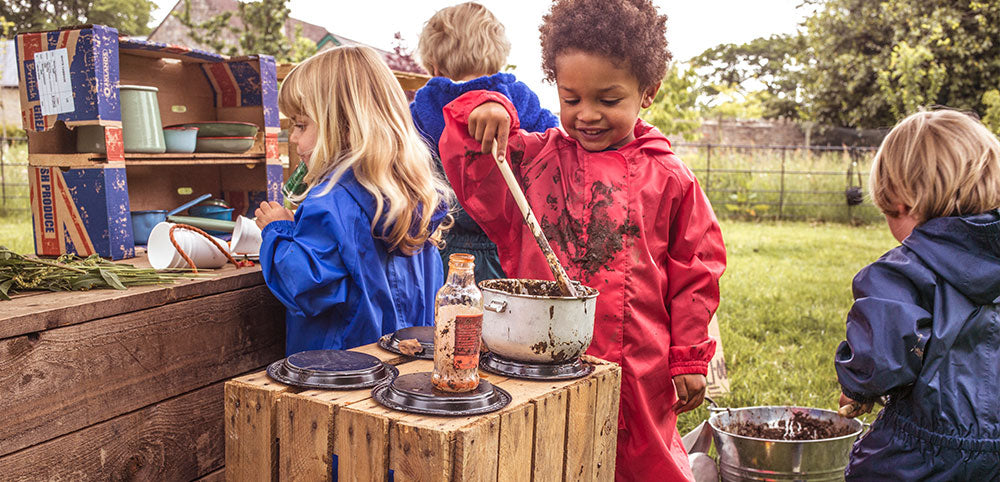 Tips & Ideas for Mud Kitchen Play
What could be more fun than a messy afternoon playing with mud?! We asked Jess from Mud Kitchens UK to give us her top tips on getting the most out of a mud kitchen, from role play to storytelling.
Read on for some great ideas to introduce children to the fun that can be had with a mud kitchen and the benefits of playing with one.
Originally, mud kitchens were created to encourage children to engage in messy play, an outdoor play station where they could imitate what goes on in a real kitchen, cooking up a delicious spaghetti bolognese or a tasty pie. Since then the mud kitchen has evolved, with children teaching how it can be used. As well as messy play some favourite mud kitchen activities include potion making, playing cafes/shops, dinosaur swamps, planting flowers and herbs and much much more. While mud kitchens are suitable for children aged 1 – 8, it is not unusual for older siblings or even Granny to get involved.
For younger children, role play seems to be the most popular way to play. For example, by presenting you with a plate of pizza and chips and asking what toppings you would like, beetles or bugs? Very charming but also useful in developing language and communication skills. Older children can enjoy a little bit of storytelling, take the Gruffalo for instance, with roasted fox or gruffalo crumble. Cue cards could be displayed to encourage the children to forage using their imagination, worms can make the perfect scrambled snake and snail slime could make yummy owl ice cream. When the children start to explore their environment they get to discover so much more; nature really is their best teacher.
Another great learning tool is teaching them how to identify different food groups, letting them find which ingredients are needed for each dish by using picture recipe cards. The mud kitchen is the perfect imagination station that has so many incredible benefits - leave them to it and the children will inspire, excite and surprise you.