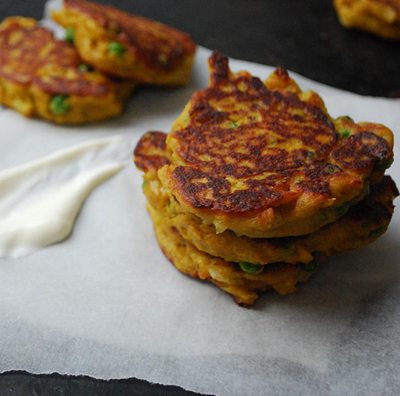 Try out Cooking Them Healthy's Spiced Potato Cakes!
Cooking them Healthy
has shared their latest recipe with us. Get the kids in the kitchen to join you making some spiced potato cakes, perfect for pack lunches or warming up whilst on the move. Read on to find out how…  These gently spiced potato cakes make a lovely warming snack, particularly good dipped into hot soup. The peas add a hit of immune boosting vitamin C. We prefer to use spelt flour in place of plain flour as it can be easier on the digestive system, and we also love using spices to add plenty of flavour as well as useful health supporting antioxidants. Serves: 8-10 cakes
450g cold mashed potato
30g spelt flour
50g cooked peas
2 tsp cumin
1 tsp paprika
1 tsp turmeric
1 egg, beaten
1 garlic clove, crushed
1 onion, finely chopped
Heat a little coconut oil in a saucepan on a medium heat and add the onions. Sweat them down gently until translucent and soft and then add the crushed garlic.
Next, add your spices and cook out for up to a minute.
Place the mashed potato in a bowl and add the spiced onions.
Add the egg and sprinkle in the flour. Give everything a good stir, either with a wooden spoon or with your hands (this is great to do with the kids just make sure the onions are not too hot). Combine everything well.
Heat a generous tablespoon of coconut oil in a non-stick frying pan and add a large tablespoon of the potato mix to the pan. Depending on the size of your pan add more spoonfuls. I usually aim for about 4 or 5 but you don't want to overcrowd the pan. Allow the potato cakes to cook for around 2 minutes before attempting to turn. Flip them over to the other side and you should see a lovely brown lacing effect over the cake from where you have browned the potato. Continue to cook for another 2 to 3 minutes until the cake is hot all the way through.
They are quite soft when straight from a pan but firm up brilliantly when cooled slightly. They are perfect eaten warm (or even cold) in your hands and are ideal for dipping into lovely hot soup.