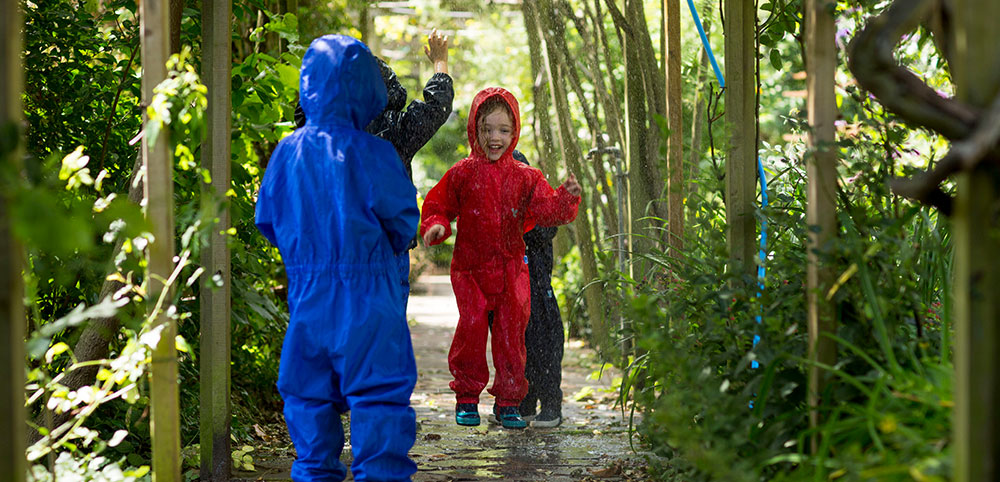 How To Wash And Care For Your Child's Outdoor Clothing
Our Muddy Puddles waterproofs and outdoor wear are built to last, but the unpredictable British weather means your little adventurers can pick up some pretty stubborn stains.
Angie Tang, Head of Operations at online laundry and dry-cleaning service
Laundrapp
, has put together a handy guide on how to wash and care for your outdoor clothing and keep your little ones warm and dry, whatever the weather.
1) Cleaning and caring for waterproofs
 Most
waterproof clothing
designed for outdoor wear has a very thin layer of a durable water repellent (DWR) coating which means water will bead off the fabric while maintaining its breathability and warmth. This DWR layer can wear away over time without regular reapplication, which means you'll need to clean and care for them well before this happens in order to keep the water out, especially if you've got some rather adventurous little ones! We wouldn't recommend washing your waterproof clothing with your ordinary detergent or fabric softener. Instead, you can buy specialty DWR washing and caring products which are designed to wash and replenish the waterproof quality.
Before sticking your clothing in the washing machine, brush off any loose dirt and fully close any zips or fastenings. Remove any fur trims before washing.
Check that the detergent drawer in your washing machine is free of any detergents or fabric softener that might be left over from your last wash.
Once the drawer is clean, pour your detergent into it and put the waterproofs into the drum. Don't use fabric softener as this reduces the effectiveness of the waterproof coating, and avoid washing more than two pieces of clothing together at a time.
Set it to a complete wash cycle at 40°C or according to the manufacturer's instructions.
When the wash is finished, leave your garments out to air dry.
Clean backpacks by hand with a clean, damp cloth and leave to air dry naturally. You can check if the DWR has worn off by simply spraying a small amount of water onto the fabric. If the water beads off, you and your little ones are good to go! If it soaks in, you'll want to apply another layer of DWR. This can be done either with a spray or a wash-in proofer, but both are relatively simple to use.
Waterproofing spray
Spray the waterproofing spray evenly to the outside of the garment, from a distance of about 15–20cm.
Hang the garment up to ensure an even coating and check that no areas have been missed out.
Fill in any gaps you might have missed and wipe off excess with a damp cloth.
Leave the garment to dry naturally.
Wash-in proofer
Wash-in proofers act as a 2-in-1 to wash
and
proof your clothing. These can be used instead of just a simple waterproof washing detergent following the same washing instructions.
2) Stain removal
 The outdoors can leave some rather stubborn stains on your child's clothing, but by following the steps below, you'll have that stain out in no time:
Mud
Let the mud dry. Don't be tempted to wipe the wet mud stain straight away as this will only spread the mud across even more of the clothing.
Using a butter knife or any other blunt scraping tool, gently scrape the dried mud from the clothing to remove as much of the dirt as you possibly can.
Rub a liquid detergent onto the area and leave to sit for around 15 minutes or until the stain is gone. For extremely stubborn stains you can loosen the dirt by rubbing the fabric together with your hands every five minutes.
If some mud remains, use a stain remover by following the instructions on the packaging.
Wash the clothing according to the label using your normal liquid detergent. If some of the stain is still there, repeat the last three steps until it has completely gone.
Grass
Grass stains are notoriously difficult to get out, which is why you should act fast to avoid the green pigment setting in. They can be removed by following the last three steps of mud stain removal.
Note: Always check the label carefully before washing any garments. If unsure, contact a professional laundry cleaning service.
3) Cleaning and caring for wellies
Who doesn't love a good splash around in the mud? Cleaning and caring for your child's wellies is a lot easier than you might think. Starting at the top and working your way down, simply wipe them with a clean cloth soaked in lukewarm water, wiping away any mud and grass. Leave them to dry naturally away from any radiators or extreme sunlight as this can dry out and crack the rubber. Have an overly excited puddle-jumper? You can easily clean the inside of your child's wellies with a cloth dipped in water and washing-up liquid. Just wipe the inside of the boots, rinse the cloth, give them a second wipe with a cloth dipped in just water to wash away the soap, then leave them to dry naturally. Use a rubber boot protector every few weeks and keep them away from any extreme temperatures to maintain the strength of the boots. Don't leave boots outside during icy winters as this can also damage the rubber.
Always clean clothing and outdoor wear according to the manufacturer's instructions and remember to air dry naturally away from any artificial heat sources. Following these easy steps, your child's outdoor clothing will last for many more years of muddy fun!
 Do you have other tips on how to wash and care for outdoor clothing? Leave us a comment below.