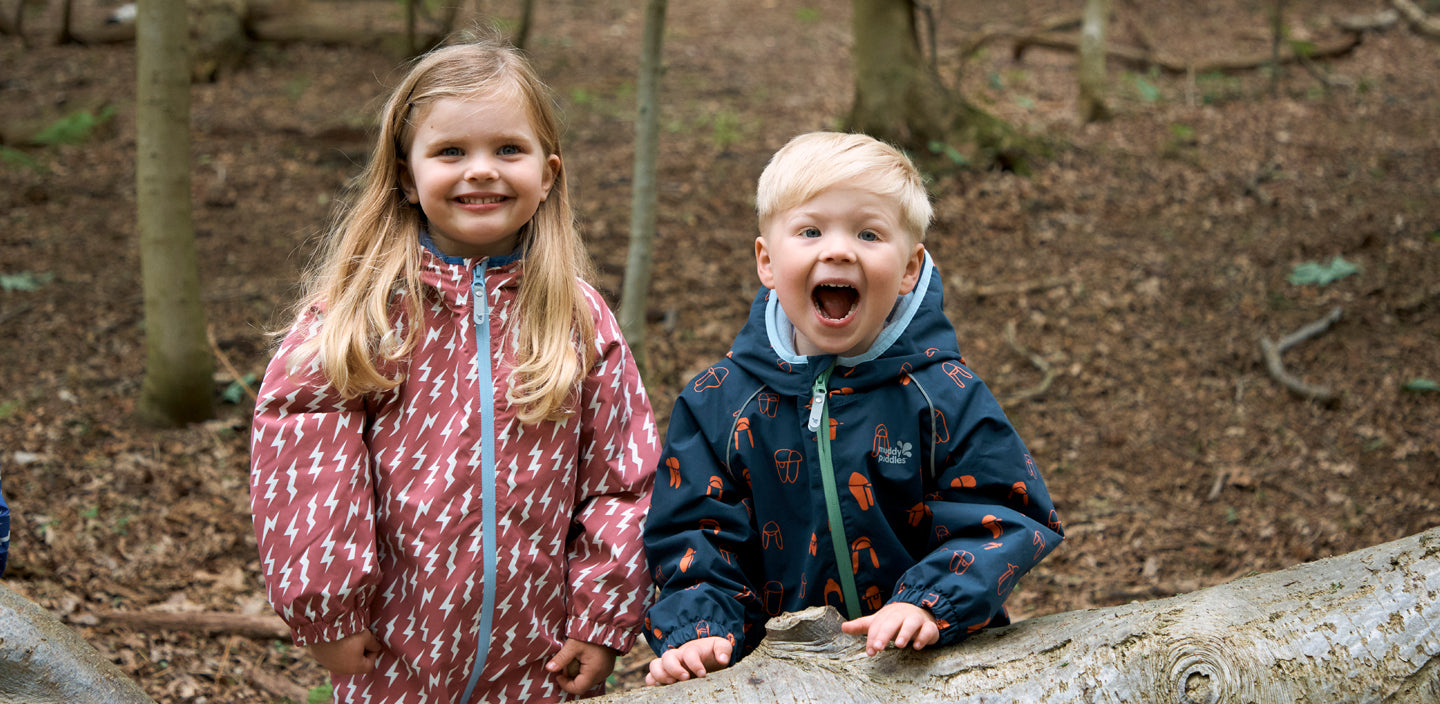 KIDS' WATERPROOF PUDDLESUITS, ALL-IN-ONE OVERALLS, DUNGAREES AND SNOW SUITS
Browse our selection of children's waterproof puddle suits, all-in-one overalls, dungarees and snow suits.
Read More
Want to keep your young adventurer dry from top to toe? We have a huge range of rain-ready all-in-one suits for any weather. Choose from lightweight dungarees, fleece-lined overalls and toasty snowsuits to protect your little explorer from the rain, wind, chill and snow. Whatever you choose, rest assured, your little one will be warm, dry and free to move around.

Follow @muddypuddlesuk on Instagram

Keep your children waterproof - here's more info:

They'll be wading in rivers, helping in the garden or simply enjoying an afternoon in the rain with a puddle suit. Browse our fantastic range of cosy and comfy Puddle Suits for boys, girls and babies - perfect for keeping your little explorers protected from the wet and muddy weather.

Special features to protect from rain:

With 5,000mm to 10,000mm DWR coating to protect from splodgy rain and torrential downpours, your little one will be as snug as a bug wearing a Muddy Puddles All-in-One. With dual storm flaps, adjustable elasticated underfoot stirrups and elasticated cuffs, these durable splash suits are waterproof enough to handle even the wettest and windiest days. Discover our great range of children's wellies, perfect for wading through mud and puddles.

Crawl, climb and explore with ease:

Breathable fabric means they can roam around to their heart's content without overheating, and our generous sizing and loose design (for easy pulling-on and off, as well as extra room for warm layers) means they can explore the great outdoors with ease. Don't forget little hands & feet - we have a wide range of snuggly hats, gloves & scarves to keep your brave little explorers toasty.

Removable fleece for milder days

With a removable fleece suit in some styles, your little one will be extra cosy - even if they're playing in a puddle of water or tearing up and down a windy beach. Or, opt for a lightweight Puddle Pac-An-All-in-One for milder days so that adventurers are prepared for mud, wind and and rain in warmer weather. Match your waterproof Puddleflex suit or Bib & Brace with our kids pac a mac that folds into its own pocket.

Vibrant designs for extra fun

With the fantastic choice of vibrant, unisex colours and prints, these kids' all in one waterproofs are always popular. And, they wash beautifully at 30 degrees too (hooray!). Pass these waterproofs on to siblings, cousins and friends - they'll still be in great condition for years to come. Discover also our brilliant waterproof trousers, perfect for keeping your children dry and warm whatever the weather.