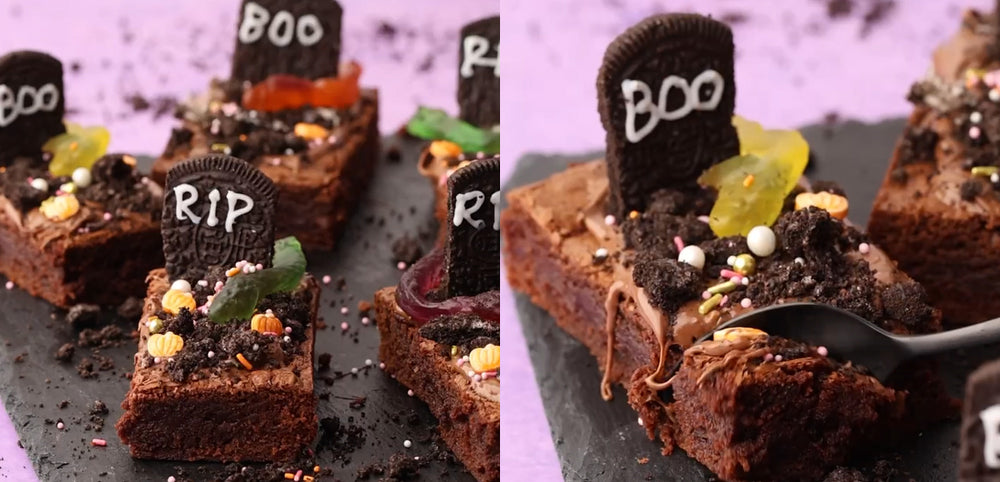 Graveyard Brownies Recipe with Craft & Crumb
Halloween is nearly here and it's the perfect time to start planning simple half term activities to entertain your little ones. Our friends at Craft & Crumb have come up with this super fun recipe for spooky graveyard brownies which is sure to bring a smile to their faces.
This simple recipe involves baking delicious chocolate brownies, then topping with chocolate icing, Oreo biscuits, sprinkles and sweets. Perfect for sharing with friends at the Halloween party!
Read on for the super simple recipe.
Craft & Crumb are offering 10% off their Halloween Kits (and the brownie dipper kit which can be used for this recipe) exclusively for Muddy Puddles customers until 31st October. Just enter code 'MP10' at the checkout when placing your order on www.craftandcrumb.com.
Ingredients:
Craft & Crumb Brownie Dipper Kit or your favourite chocolate brownie recipe
75g icing sugar
1 tbsp cocoa powder
40g softened butter
Jelly snakes (plenty of varieties are available from major supermarkets and some extra spooktacular ones are available at this time of year)
Halloween themed sprinkles (we especially love these ones from Sprinkles & Toppers) 
Oreo biscuits (to make gravestone and to crumble on top)
White icing writer pen (to write RIP on the headstone)
Method:
STEP 1
Bake your yummy chocolate brownies using Craft & Crumb's Brownie Dipper Kit, or by following your favourite brownie recipe - we love this one from The Happy Foodie.
Allow to cool completely, remove from tin and slice into rectangles.
STEP 2
Mix the chocolate icing together using 75g icing sugar, 1 tbsp cocoa powder, and 40g softened butter, and spread over the top of the brownies.
Separate some Oreos, then cut into a gravestone shape with a knife, and write 'RIP' with a white icing tube. Insert into the brownie.
Crush some Oreos and sprinkle the crumbs over the icing to look like dirt.
Add jelly snakes, sprinkles and sweets to decorate.